PRESS



THE GENIUS OF THE CROWD (2012)

#A CLOSER LISTEN (USA)
(http://acloserlisten.com/2012/07/22/esther-burns-the-genius-of-the-crowd/)

Of all the entertainment arts, poetry may be the least appreciated. Film, TV, music, other literature, even painting and sculpture seem to have wide audiences. Poetry, not so much. Some households may claim an anthology or two, but books of poetry are being released every day like pieces of trees falling silently in a forest. Perhaps the medium needs a new medium: a live audience (as in poetry slams) or a musical context (FareWell Poetry, Esther Burns). The Genius of the Crowd provides such a medium, embedding the words of Charles Bukowski in a field of glitch, organ, mellotron, theremin, and other appealing instruments. The end result comes across as a soundscape, a hybrid of Godspeed! You Black Emperor's early dialogue experiments (with politics included) and the ambient industrial excursions of artists performing during the same time period. And yet, because this music veers away from obvious melody or any popular mode of composition, its effect seems timeless.
"Delightfully depressing" may be the best way to describe this three-part, 22-minute piece. The sentiments are dour, the backing subdued until the closing minutes. But the creativity trumps the mood, producing an injured awe. The French duo deepens the drama by separating its dialogue segments, occasionally repeating a significant passage or phrase. This repetition invites the listener to ruminate on the meaning of each downcast utterance.
Although the bulk of the recording is from Bukowski, the piece begins with Milton Friedman: first of all, tell me, is there some society you know that doesn't run on greed? This section directly attacks not only the status quo, but the idea that we are achieving our ideological goals. That was a myth; what was the reality? That was a period when millions of people from all over the world streamed to these shores. They came here with empty hands, in the hope and the belief that they could make a better life for themselves and their children. The crackling static and somber piano surrounding this passage emphasize the gap between hope and reality, underlining a nostalgia for blinder times.
But then the spotlight turns to Bukowski, who seems convinced that everyone but an artist is a scoundrel. His distinction seems to lie with a different set of the elite and the masses. The genius of the crowd, he sullenly rages, is its hatred, participating in exclusion while railing against it. The poet sounds utterly defeated, forlorn, deserted, one step away from total retreat. As he speaks, percussion and strings begin to punctuate his words. Without the music, the diatribe is powerful, but with the music, it grows into something nearly transcendent. Unfortunately, it's a transcendence of hope, a turning of the back upon dreams in order to avoid disappointment. On the one hand, this seems very disillusioning. On the other, who hasn't felt this way from time to time? Esther Burns' own genius is the courage to rescue such sentiments from the sands of time, to cloak it in new cloths, to bring it to the party to which it never wanted to go, to put a drink in its hand, to step back and wonder if it will ever mingle on its own.
The brightness of the glockenspiel indicates movement, but as the piece concludes, it's angry gloom that wins. The dark guitar of the final three minutes demonstrates what happens when the coin of depression flips to anger. This is by all indications a healthy thing, although more healthy for the person expressing it than for the person or institution receiving it. And while it may not be a call to arms, it's still a lifting of the head from the mire, a final boost to Bukowski that enhances his words while thrusting them into modern contexts and conversations. Those wishing to confront emotion rather than to flee from it will find The Genius of the Crowd an excellent companion. (Richard Allen)


#FLUID RADIO (UK)
(http://www.fluid-radio.co.uk/2012/06/esther-burns-the-genius-of-the-crowd/)

On April 21, 1975, Milton Friedman wrote an economic policy letter to Chilean president Augusto Pinochet Ugarte. The brief, condensed letter detailed a "shock program" intended to curb inflation and promote economic growth. It also completely avoided the subject of Pinochet's fetish for the "disappearance, killing, torture and kidnapping" of political rivals, claiming over 3,400 victims in all, as documented by the Rettig Commission. The association with Pinochet cast a shadow over Friedman's 1976 Nobel Prize award, and indeed, over the rest of his career. Five years have passed since Milton Friedman's death, and he is still an incredibly divisive figure in American politics and academia. For some, he was the most tireless freedom advocate in our lifetimes, and for others, he will remain the quintessential disaster capitalist.
So when his voice opens the new Esther Burns album, The Genius of the Crowd, we know we're in for a ride: "First of all, tell me, is there some society you know that doesn't run on greed? You think Russia doesn't run on greed? You think China doesn't run on greed?"
Their previous album La Valeur du Vide, (French for "The Value of the Void") was woefully overlooked and under-reviewed, and such critical aloofness is difficult to explain. Take "L'intranquille," for one: the wintry solo piano cuts a clear path, which is groomed by the slightly trilling cello and voice sample, then properly annihilated by a shrill industrial coda. The title song is reminiscent of a three-way stand off in which no one blinks: looping piano, an interlude of Ennio Morricone-inspired guitar, and a straight-line sample from "You're Gonna Need Somebody" as recorded by Charley Patton. ("Tell me when he come down his hair gonna be like lamb's wool and his eyes like flames of fire, and every man gonna know he's the son of the true living god.")
The Genius of the Crowd is far more focused in scope, borrowing its name from the Charles Bukowski poem. Bukowski shows up for his Friedman debate five minutes late, but with ample time for rebuttal. The voice recording is shrouded with a thickly sad piano and synthesized cello likeness. Bukowski's work is not exactly uplifting on paper, but the sample of his slow, mournful voice and long exhales make for an agonizing listen. You can smell the tobacco smoke in the air, taste the cold whiskey in the glass. The man really does sound like serotonin with legs in this clip:
beware the knowers
beware those who are always reading books
beware those who either detest poverty
or are proud of it
Parts I and II, the first of which begins at 5:15, find synthesized Mellotron and drum fading in and out between the poet's admonitions. Perched somewhere between Antonin Artaud's rants on their previous album, the simulated reed would have communicated stark raving insanity. But here, the timid, low-density instrument and its tightly-looping two-note riff are punishingly dismal. Bukowsi's voice becomes our voice:
beware the average man the average woman
beware their love, their love is average
seeks average
Bukowki's entrance is grieving, as if Friedman's ideology has shaken him down to his cells. But his exit is cocksure, a slashing cowpunk guitar riff that Quentin Tarantino ought to hear before writing his next screenplay. That almost has to be the crack of horse spurs with every boot stomp, the strike of a hammer against rail spike with every percussion shot. The poet's morose conclusion is hair-raising: "their hatred will be perfect …. their finest art."
Was Milton Friedman's letter to Pinochet an open endorsement of that dictator's bloodspilling inclinations? Or the sort of unfortunate lapse that plagues the mild-mannered? Quite frankly, that is a matter for those who knew Friedman to decide. In their time, both men would only have praised the wisdom of crowds only ironically, but here, on Bukowski's court, the writer scores a clear win. And so what if the listeners' conclusions aren't entirely their own? Sometimes a soapbox makes great music even that much more fun.
Fred Nolan for Fluid Radio (Posted On: June 22, 2012)


#THE MUSE IN MUSIC (USA)
(http://themuseinmusic.com)
they will hate you
and their hatred will be perfect
like a shining diamond
like a knife
like a mountain
like a tiger
like hemlock
their finest art
–Charles Bukowski, "The Genius Of The Crowd"
That about sums it up, no? The new album is here, a short play in three acts featuring Bukowski's poem, some Milton Friedman interviews, and that Esther Burns crazy we love so well.

Si l'électronique est plus présente dans The Genius of the Crowd, Esther Burns reste fidèle au style de son étrange et bel album La valeur du vide (2011). Le groupe passe avec un grand bonheur des sons grinçants et des larsen aux notes mélancoliques du piano, alternant les passages mélodieux et la stridence des guitares, la douceur et l'agressivité. Esther Burns est un groupe de contrastes, contraste entre les machines et les instruments classiques, entre avant-gardisme et nostalgie, contraste, dans cet album, entre le poème désenchanté de Charles Bukowski qui vient comme une réponse au discours presque cynique de l'un des papes de l' économie libérale, Milton Friedman. Encore une fois on est surpris de l'extraordinaire créativité de ce groupe qui trace son chemin en marge sans aucune concession et nous fait découvrir un monde, son monde, avec un immense talent et une cohérence qui forcent le respect. The Genius of the Crowd est le digne successeur de La valeur du vide, tout en étant peut-être plus abordable ... à moins qu'Esther Burns ait déjà su nous imposer son univers et son style!
Encore un album aussi beau qu 'inclassable.


#EUROCK (USA)
(www.eurock.com)
Esther Burns is comprised of Emmanuel Chagrot & Philippe Sangara. Their releases are perhaps two of the most powerful fusions of music and spoken word philosophical tracks I have ever heard. An avid scholar could write a lengthy dissertation on both the music and socio-political theory behind the albums conception. The casual, listener will instead become captivated by trying to absorb and decipher the words and meaning behind the various texts by Ronald Reagan's Doctor of Voodoo Economics Milton Freidman, along with the counterpoint cultural analysis of poet Charles Bukowski featured on THE GENIUS OF THE CROWD, taken from his album 70 MINUTES IN HELL.
Their debut album, LA VALEUR DU VIDE , features tracts by Antonin Artaud, Robert Johnson & Charley Patton + Phillip K. Dick. The music on both works is an incredible amalgam of electronics, laced with guitars, old fashioned keyboards, vintage recordings, static, mechanical sounds, samples, percussion, exotica and more. The words and music fade in and out of each other to create a surreal tapestry of intellectual stimulation and deeply emotive tone colors.

____________________


LA VALEUR DU VIDE (2011)
#LE ZIG
(www.lezig.blogspot.com)
"La valeur du vide" est un album venu de nulle part et qui ne ressemble à nul autre. Vouloir le classer dans un style ou un genre serait peine perdue. Où ranger une musique de film sans film sinon celui que l'auditeur crée au fil d'une ligne de piano mélancolique, d'un éclair de guitare strident, d'un orage qui gronde au loin tandis que le grincement d'une balançoire rythme le chant de la pluie ? Où ranger un disque dans lequel les voix sont celles d'Antonin Artaud, de Philip K. Dick, de Charley Patton ou celle d'une hôtesse qui demande aux visiteurs d'un aquarium de ne pas déranger les poissons, un disque dans lequel le vent emporte le son d'une fanfare, dans lequel les clochettes des vaches côtoient le rythme lancinant des machines ?
La solution est certainement celle que nous avons adoptée : ne pas le ranger puisque de toute façon on le sortira souvent, même si "La valeur du vide" ne fait pas partie de ces disques que l'on met en sourdine en discutant devant un apéritif ! Ce serait d'ailleurs une très mauvaise idée: sa présence et son relief auraient tôt fait d'envahir l'espace et de couper court à toute velléité de divertissement. Cette musique est une musique que l'on écoute, pas de celles vouées à faire patienter le client au téléphone ! Au-delà de la musique que vous pouvez découvrir sur www.myspace.com/estherburns ou http://www.estherburns.com/, une deuxième bonne surprise attend l'acquéreur, l'objet en lui même. la pochette est un modèle du genre, belle et sobre à la fois.
"La valeur du vide" a été enregistré et mixé "at home", il est limité à 300 exemplaires numérotés, une raison de plus pour vite le commander sur le site du groupe www.estherburns.com.
# FLUID RADIO (UK), Fred Nolan
Antonin Artaud was a French poet, playwright and actor, who spent large stretches of time in various asylums, was treated with opium regimens, on occasions was subjected to electroshock therapy. He died in 1948 while clutching, it is said, one of his shoes. Philip K. Dick was an American science fiction writer, famously prolific, who credits amphetamine use for his output. He suffered five failed marriages and claims to have become "suicidally depressed" after the fourth, bringing street people into his house just to fill the void. Robert Johnson was a Mississippi blues singer and guitarist who — in spite of his short life and remarkably short recording career — left a clear mark on the art form. He died mysteriously, possibly by strychnine poisoning at the hands of an irate husband.
Artaud, Dick, and Johnson — as well Charley Patton, who lived a charmed life, by comparison — form the guest list of the astonishing Esther Burns debut La Valeur Du Vide. This is an album, it seems, about madness.
It is barely an exaggeration to say that the members of Esther Burns are unknown. No EPs preceded La Valeur Du Vide, and a video search produces only a brief promotional teaser. The two musicians (Philippe Sangara and Emmanuel Chagrot) are far from household names. This is the music equivalent to watching a movie before seeing the trailer. But all cinema buffs will tell you that this is the best way to see a film.
La Valeur Du Vide opens with "Chimaera," an inch-by-inch shuffle, powered by art house cello, the sound of Artaud's caricatured ranting, and spaghetti western six-string. The bass guitar skirts the deepest edge of the register; a few shapeshifting field recordings arrive, fashionably late; and this insane march ends with nothing short of a marching band. The first few minutes here are a telling and poignant summary of the whole release: bewildering, yet savory. Disquieting, yet visionary. Esther Burns are not above telling a joke ("Merci Pour Les Poissons" seems like a nod toward The Hitchhiker's Guide to the Galaxy), and they steer far clear of clichés. There are no rabbit holes or quoted ravens here.
The title track warms up the album's first act, featuring a small-room piano waltz and some radio noise, for texture. Enter the big-tremolo guitar at the first quarter pole, and it has all the ingredients of a masterpiece even now. But an old Charley Patton vocal recording decides the matter: this old delta blues piece is a prodigious choice, haunting, dazzling, and snug. How the competing song structures interact when put together this way is, indeed, something to hear.
For what is already an unpredictable album, "Soliloques" is a surprise, a touching and slow composition for melodica, with piano accompaniment: a simple piece for a simple instrument. "Merci" is pure David Lynch, a darkly-lit lounge piece with a hypnotic rim-shot drum line, train station background noise, more Ennio Morricone guitar, and a two-finger piano composition. The rainfall introducing "Esther is Waiting" is something of a relief, and the lentissimo piano would be heartbreaking if it wasn't mixed down to the point of willful afterthought. The title to "On Schizophrenia" has a delicious, clinical feel, like a peer-reviewed article in a mental health journal. The content does not belie the packaging: a testy, halting interview caked with a paranoid, often noisy composition for guitar and piano. It all promises to set the neighborhood dogs to barking.
But the finest song here is the closing one, "L'intranquille". A sparse, melancholy piano line opens the track: the sound of painful rebuilding (keep the central theme of the album in mind). Piano compositions can change in character with ease, and at 90 seconds in "L'intranquille" assumes a more optimistic posture. No change in key or tempo, just a slight shift in wind. Yet in short time some deep, baritone stringwork restores the museum quality of "Chimaera," and things begin to fall apart at four minutes in with imprecise, industrial percussion and a last-moment shift from stereo to mono. In this context it is a brilliant touch: the sound of deaf ears, of closing off.
As debuts go, it can hardly get any better than this: a beautiful, intelligent, experimental piece, with some familiar components, but all repackaged for truly disarming results.

http://www.fluid-radio.co.uk/2011/04/esther-burns-la-valeur-du-vide/
_________________________________________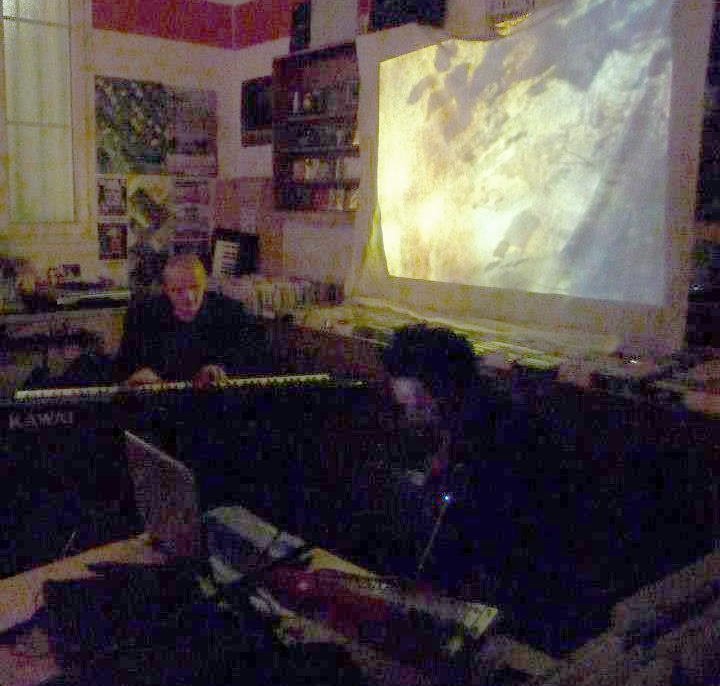 SHOWCASE ENTROPY RECORDS
Souffle Continu (Paris, XIe)
14 Décembre 2012

# EtherREAL
(http://www.etherreal.com/spip.php?article4541)
(…) C'est Esther Burns qui ouvre la soirée Entropy Records. Il s'agit d'un duo mené par Emmanuel Chagrot et Philippe Sangara. Le premier alterne entre clavier, percussion et mélodica tandis que le second se produit essentiellement à la guitare en touchant parfois au laptop et glockenspiel. La surprise est donc déjà là, avec une musique que l'on devine avant tout acoustique et électrique alors que l'on connaissait surtout Entropy Records pour ses productions électroniques tout azimuts, entre ambient expérimentale et dub techno. Le duo jouera trois titres. On commence avec des grincements de guitare, une voix, un discours affirmé, et la douceur du piano. On navigue dans une sorte de post-rock ambient mélancolique, parfois un peu sombre, à l'image des projections qui défilent sur un drap tendu derrière eux. Nappes d'orgues et cliquetis ponctués par la voix de Bukowski, et voici la rythmique lourde qui arrive, brute et métallique alors qu'Emmanuel frappe sur le montant d'une grosse caisse. Le jeu de Philippe nous fait quant à lui penser à un blues-rock sur le dernier titre à l'atmosphère plus tendue. Une découverte inattendue.